The Copal Caslon 101 - Japan's first digital clock was introduced to the world in 1965 by the Copal Company, Ltd.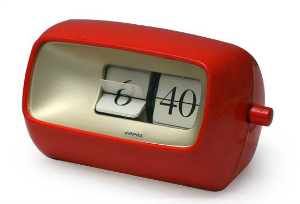 Known as The Nidec Copal Corporation since 1998, the company began operation in 1946, with the production of photographic shutters which persist as one of the company's best-known products. The company remains a well established manufacturer of optical, electronic and mechanical equipment, still, primarily for the photographic industry.
The designer of the Copal Calson 101 was the world renowned designer, Riki Wantanabe.
Pioneer of Japanese design, Riki Wantanabe
ジャパニーズデザインのパイオニア 渡辺力
Riki Wantanabe 渡辺力 (1911 - 2013) was a distinguished Japanese industrial designer (often compared to the American designers Charles and Ray Eames) who passed away in 2013 at 101 years of age. Considered a pioneer of post-Second World War Japanese design in a time when the word or concept of "design" was little used in Japan, Wantanabe was initially made famous by furniture design. The Watanabe name eventually became established and well respected in the clock and watch design world.
In 1964 Wantanabe designed the COPAL Caslon (キャスロン) 101. As described by Wantanabe, the clock is a leaf type table clock made by applying camera shutter and motor technology. A typeface called Caslon was used for the digits, from which the product derives it's model name. Wall hanging types of the Calson 101 were also produced.
see the article
for more information.