Making a new orange neon glow flip clock bulb assembly.
- is it worth it?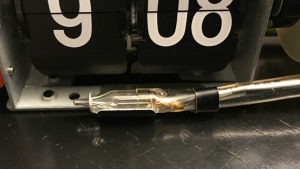 Anyone who has ever opened up one of the older, vintage flip clocks has seen them. The orange neon glow bulbs (or lamps as many call them). Unfortunately, if you're opening up a flip clock to restore or repair it, that "orange" lamp is probably no longer lit, and likely, the bulb is blackened. So, one of the most common questions among flip clock fans is ... "where do I get one of those orange bulbs?"
Neon Bulb Alternatives?
As many of you know ... it's not just a matter of getting a bulb. It's understanding what voltage is involved and what resistor is needed. A reply from some of our novice flip clock fans is frequently, "well, then what kind of LED can I just throw in there?"
Well, unless you're Bill Murray in the movie Groundhog Day, there'll be no throwing anything in or around flip clocks.
LED replacements can actually be even more complicated as you will have to get a source of DC current, possibly off the circuit board, or you'll have to insert a converter inside the cabinet. Then, you'll still need to know the proper resistor to use. It ain't easy kid.
But then again, it's not above your abilities grasshopper. So let's just consider.
Why not go LED? They last longer.
- Maybe they do, and maybe they don't. The idea that LEDs last forever is a fallacy. Besides, why restore a flip clock if you're going to let modern technology invade the scene. Additionally, pulling current off the clock/radio's board often has unforeseen consequences (like making the radio not sound as good). A better choice would be to use the current that was meant to light your clock. So, for the orange neon glow lamps, you'll need a bulb for use with 110-120 volts. That's just straight household current for those in most of North America. So, you can cut through that old clear plastic covering, slice through that black tube stuff ...