Update: 12/23/2017 - There is a better way now.
See
this post
for details.
Creating a Custom LED Module for the Panasonic RC-7462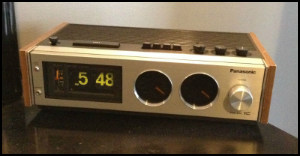 The Panasonic RC-7462 features twin, AM/FM speedometer-like FM/AM tuning dials, a fine sounding 4 inch speaker (for a vintage flip clock), real wood side panels and a relatively large flip clock mechanism with fluorescent digits. The clock originally came with a 3 inch black light tube that reportedly (per a magazine advertisement) provided "sharp and clear" illumination without glaring light. However, finding this clock with a working blacklight is not likely in this era. The two clocks used in a recent restoration by flipclockfans.com both had tubes with some purple glow left, but not enough to even lightly illuminate the digits of the flip clock.
Initially trying a blacklight 6 LED 42 mm festoon bulb in a restored RC-7462 produced adequate results, but the bulb did not fully illuminate the digits. Also, when wired into the 12 volts provided by the circuit board, the light would pulsate when music was played moderately to loudly.
The Solution:
Devise a custom LED module with as few LEDs as possible, wired in parallel to the circuit board.
How To Make Your Own Custom LED Module (Black Light!)
Materials needed
4 - 5mm UV/Purple Ultra Bright Round Top LEDs
(wavelength of around 400nm or less) - try lighthouseleds.com
4 - 470 Ohm 1/4 (0.25) Watt Resistors (metal film recommended).
Ours purchased from eBay seller "Oddwires"
1 - Cord Channel (for hiding and organizing an electric cord)
rounded, flat bottomed with no more than a 1/2 inch diameter
4 - 10 inch lengths of twisted pair 24 AWG stranded wire (or 4 lengths of two
different colors of wire to differentiate between + and -
(we went overboard with Thermax - Teflon insulated, silver-plated 19 stranded copper wire).
1 - 3/16 inch drill bit (and drill if needed)
1 - razor blade/utility knife
1 - wire stripper tool of your choice
1 - soldiering iron and soldier
1 - ruler
1 - tape measure
1 - cutting device (hacksaw, or Dremel with cutting wheel).
Part One: The Module Housing
- cut a 3 inch length of the cord channel with your saw, Dremel or other tool. - drill holes to accept the LEDS: To obtain the correct angle of lighting, you need to measure 1/2 inch from the top of the wire channel on what will be the back of our module or, 1/2 inch from the base at the front (right where the flat spot ends). You'll need to wrap a tape measure right up against the cord channel to get a proper and consistent measure. This alignment was obtained from much trial and error and using a prototype. If your cord channel is not the same as that listed/pictured, you will almost certainly have to alter this measurement. Mark the 1/2 in off at a few spots and connect the dots with pencil using a straight edge - Mark off the four points where you will drill your holes for the LEDS: Again, the following measures were developed for these particular LEDs after many trials. With the front facing you (the part opposite the open channel), mark off points from left to right as follows: 5/8 in, 1 1/4 in, 2 in and 2 1/4 inch. The initial 5/8 inch mark works because the module will be butted up against the available space in the cabinet, 5/8 inches over being the optimal spot to illuminate the last minute digit and correctly align the ...