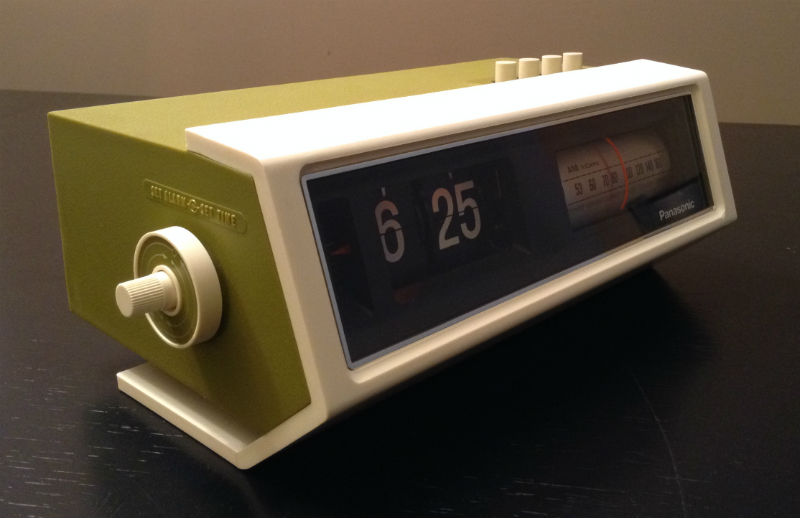 The Panasonic RC-1122 just screams "Retro" and early 70s especially in the classic Avocado green color. This classic early flip clock is AM radio only and built to last.
Details: The RC-1122 flip clock was produced in the green, orange and a brown color all with a cream white trim and buttons. The colored cabinet has a
texture
to it that is reminiscent of leather while the trim is smooth. The clock measures an exact 8 1/2 inches in width, 3 1/4 inches in height, 5 inches in depth (at the widest point. The clock face is lighted by an orange neon glow bulb - the radio dial was not illuminated. The clock can alarm to the radio or raucous buzzing sound.
This flip clock is easily disassembled by removing two screws in the back, then two on the bottom. The cream trim which comprises the base as well, is first removed by gently lifting up from the bottom. An additionally interior screw on the top of the clock (often hidden by a black piece of felt) must be removed, then the colored case can then be moved away from the cabinet.
The Panasonic RC-1122 comes with a relatively small, 32 ohm, 2 1/2 inch speaker that is curiously located on the very back of the clock.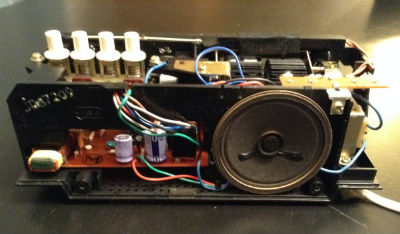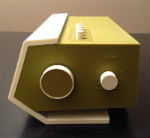 These clocks have held up well over the years, due primarily to the good quality plastics used as well as the metal components on the interior of the clock. The top buttons are stout, with the mechanisms, as already mentioned, composed primarily of metal - it seems quite unlikely that you'll find a clock with broken or non-functioning buttons on the top.
While this model flip clock does tend to pick up light scratches on the clear plastic face (a condition seems to plague essentially all early flip clocks), major cracks in the cabinet are not typical due to the higher quality plastic used. The RC-1122s also do not seem prone to discoloration, and when lightly cleaned with soap and water, appear nearly new.
The clocks come up for sale or auction from time to time on eBay or Etsy.com but are a rare bird in the flip clock world.