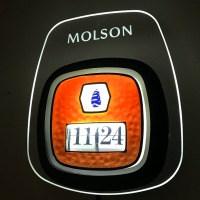 The Molson Beer Sign Flip Clock -
Very rarely seen, the Molson Beer Sign Flip clock holds interest for both those interested in breweriana as well as flip clock fans.
The sign was designed and producted by Display Corporation, Milwaukee, Wisconsin. This company is still in business and known as DCI Marketing, Inc.
What is now known as Molson Coors Brewing Company, brewers of both Molson brands and Coors, is historically linked to Canada's oldest beer brewery founded on the banks of the St. Lawrence River in Montreal. Molson Canadian was first brewed in 1959 and remains one of Canada's most iconic and best-selling brands. The ship logo present on the clock represents Molson Export Ale and is still in use today.
Dimensions:
12 inches high, 10 inches at widest point and approximately 4 inches deep.
Power:
rated for 117 volts at 60Hz, the clock/sign reportedly uses 18 watts
Lighting:
It uses one 4 Watt 6" Cool White T5 Mini-Bipin Base Fluorescent Bulb (C/O PH 249631 / F4T5/CW) that is
readily available online
and very inexpensive (about a buck).
Clock Mechanism
The white flip cards display time in 24 hour format and are fairly large, much larger than a standard flip clock, measuring approximately 1.5 inches wide and the two cards together making each digit 1.5 inches tall. The clock closely resembles the early Copal Clocks actually using the exact motor and gear box used in the Caslon 201.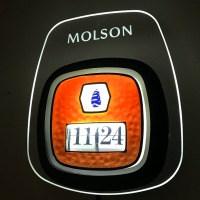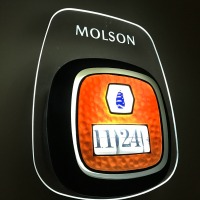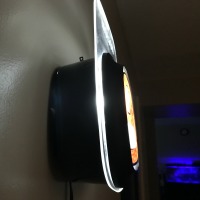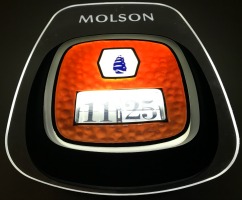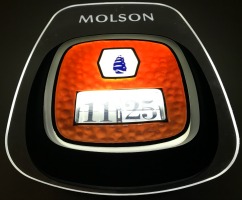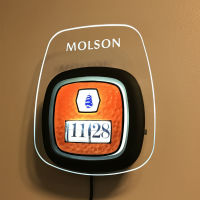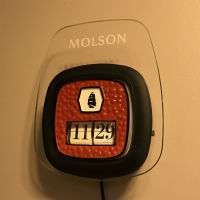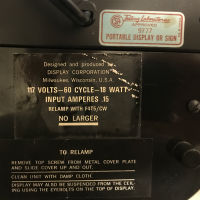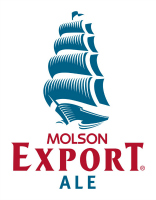 Personal History with this clock
The clock/sign was purchased through eBay from a Canadian seller on March 13,2017 and with shipping the clock went for just over $105.00 (including shipping). Yes, very pricey, but the clock was rare and to this day I have not seen another. Unfortunately, the seller was horrible when it came to packaging. The clock arived in multiple pieces. Primarily the casing was shattered. When I complained, we were able to come to a reasonable price adjustment. I was probably more generous than I should have been, but ultimately the clock/sign cost me about $50.00.
The case had to be epoxied to get it to a usable condition. Unfortunately, for some unknown reason the clock motor when out with a loud pop and a spark, apparently shorting out inside the windings. The clock then spent almost 4 months in solitary confinement in a cardboard box. In early July 2017 while working with a Copal Caslon 201 the similarity of the motors of the clock and the sign/clock became apparent. As we had a Calson 201 for parts in the FlipClockFans collection, the sign/clock was released from captivity. The rest is history. We now have a working Molson Beer Sign Flip Clock.
Impressions:
The clock is quite impressive on the wall, especially at night. You might think that the orange portion is glass, but it's not. It's just thin sign plastic. These are not sturdily built (as my experience detailed above and in the video below can attest). While I don't think I'll branch off into flip clock signs, they remain an interest to me. This particular clock looks great on the wall and adds light as well as displaying the time, keeping very good time after all these years.
Comments Welcome in the forum entry here