Anyone who has ever opened up one of the older, vintage flip clocks has seen them. The orange neon glow bulbs (or lamps as many call them). Unfortunately, if you're opening up a flip clock to restore or repair it, that "orange" lamp is probably no longer lit, and likely, the bulb is blackened. So, one of the most common questions among flip clock fans is ... "where do I get one of those orange bulbs?"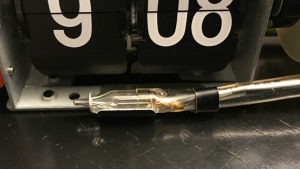 Neon Bulb Alternatives?
As many of you know ... it's not just a matter of getting a bulb. It's understanding what voltage is involved and what resistor is needed. A reply from some of our novice flip clock fans is frequently, "well, then what kind of LED can I just throw in there?"
Well, unless you're Bill Murray in the movie Groundhog Day, there'll be no throwing anything in or around flip clocks.
LED replacements can actually be even more complicated as you will have to get a source of DC current, possibly off the circuit board, or you'll have to insert a converter inside the cabinet. Then, you'll still need to know the proper resistor to use. It ain't easy kid.
But then again, it's not above your abilities grasshopper. So let's just consider.
Why not go LED? They last longer.
- Maybe they do, and maybe they don't. The idea that LEDs last forever is a fallacy. Besides, why restore a flip clock if you're going to let modern technology invade the scene. Additionally, pulling current off the clock/radio's board often has unforeseen consequences (like making the radio not sound as good). A better choice would be to use the current that was meant to light your clock. So, for the orange neon glow lamps, you'll need a bulb for use with 110-120 volts. That's just straight household current for those in most of North America.
So, you can cut through that old clear plastic covering, slice through that black tube stuff and maybe soldier in a bulb and get it all back together again. It'll work ... but it'll look like ... well, let's just hope no one opens up that flip clock.
We Can Rebuilt it - We Have the Technology!
So it was, that I decided to see what it would take to make a new bulb assembly, wire leads, bulb, resister and all the plastic tubing. With a little help from some electronically minded people, I learned that the clear plastic tubes were not just off the shelf PVC tubes. In fact, the whole assembly seems to be over-engineered. The wires are mil Spec, silver plated copper, resistant to flame and rated for over 400 volts. The tube coverings or "sleeving" is also military grade stuff resistant to heat up to 220 degrees Fahrenheit.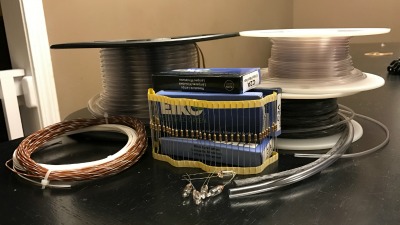 Finding a supplier for the protective sleeving on the internet was tricky. There are more than a few places that sell this stuff, but it's high dollar and many of the places want to sell you 500-1000 feet. So I found a seller that would sell as little as 100 foot spools.
I secured the following:
The larger, clear outer tube and smaller clear inner tube are from the "DAFLEX D105 series." This is said to be "extruded from specifically compounded vinyl resins for superior all around performance. It is UL approved for 105°C, conforms to MIL-I-631D, Type F, Form U, Grade C, Category 1.
It resists heat, oil, water, chemical corrosion, fungi and aging. It has high abrasion resistance, and retains its flexibility, permitting it to cling and protect irregular shapes. It snakes well under practically all conditions.
Then, to cover the resistor I purchased:
DAFLEX Black Vinyl Coated Fiberglass Tubing 130°C
"DAFLEX 130 series is made from an inorganic fiberglass base sleeving with a heat resistant extremely flexible, tough plastic insulation coating. DAFLEX 130 is recommended for continuous temperatures of -20°C up to 130°C. It is constructed to provide a tough, flexible, heat resistant sleeving. Daflex 130 cuts cleanly. It will not fray or support combustion.
Meets MIL-I-3190C, NEMA VSI ASTM D372. MIL-I-21557.
Passes UL VW-1 flame test. UL standard 1441."
So what did all that cost? Including shipping, all that cost $71.50. Yes, seventy-one dollars and fifty cents. They don't give that stuff away and Wal-Mart does not carry it.
Getting the wire leads
Now, for the wires. This was much easier. There are many sellers on eBay who evidently part out the wire from large spools. There's some really good wire out there. I went with wire that is actually a little better than the original: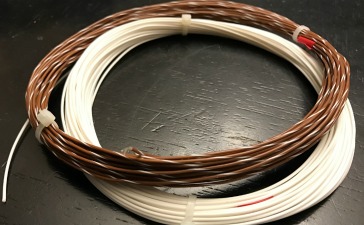 Teflon coated wire by Thermax - mil spec (M16878/4)
Silver plated copper wire with PTFE insulation.
24 AWG stranded wire with 19 strands
"M16878/4 is used in high temperature electronic applications M16878/4 has excellent thermal aging, solder damage, flame, and moisture resistance
M16878/4 wires are easy to install - small size and slippery surface
PTFE resists solvents, grease, ozone and other chemicals
Low power loss - ideal for high frequency applications
Construction
Conductor: Stranded Silver Plated Copper
Insulation: "Teflon" Extruded Polytetrafluoroethylene (PTFE)
Characteristics
Temperature Rating: -60°C to +200°C
Voltage Rating: 600 Volts"
Cost for the wire: $24.55 including shipping for 50 feet X 2 different colors.
What you might figure at this point was that I decided to make no less than 50 units, then see what the price per assembly would be. That's why I purchased the 50 feet.
The Orange Neon Glow Bulbs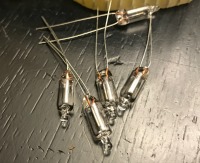 I caught the actual bulbs on sale at Bulbtown.com. The bulbs are brand new NE-2H (also know as C2A). Fifty were purchased for $20.49 including shipping. These bulbs require a 30K Ohms resistor 1/4-Watt. From eBay I bought 30K Ohms Carbon Film Resistor, 1/4-Watt (+-5%). About $4.60 for 50. There it is. If you haven't been keeping score - the grand total at this point is $121.14. So, not including wear and tear on the soldiering iron, or the soldier itself, or the labor to put this all together ... the cost per unit is: $2.42.
What have we learned?
There's a reason someone hasn't started making and selling these. The demand is just not there. Flip clock fans are out there, but the one's who have the guts to get into the clock are few and far between. I'm just doing this 1) because I wanted an original type assembly for myself, 2) I need to try to recoup some of my costs (I won't be able to quit my day job) and 3) I just enjoy helping other flip clock fans.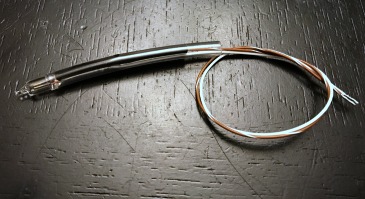 For more details or to comment about these bulbs,
check out the forum post
.