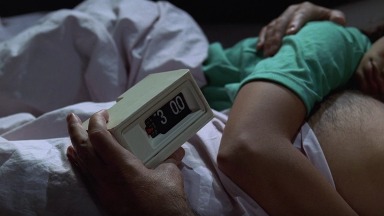 Fans of flip clocks in movies and on TV and fans of "The Sopranos" alike often seek what can be called The Sopranos Flip Clock. The Sopranos is a crime saga television series which premiered on HBO on January 10, 1999, and ran until June 10, 2007. Consisting of six seasons with a total of 86 episodes, the series spotlights the fictional Italian American mobster, Anthony "Tony" Soprano (James Gandolfini) in New Jersey. The series features Tony's family members, his rivals, mafia colleagues including Paulie "Walnuts" Gualtieri, with prominent roles from his wife Carmela (Edie Falco) and protégé Christopher Moltisanti (Michael Imperioli).
Season 2, Episode 9, "From Where to Eternity" written by Michael Imperioli, directed by Henry J. Bronchte, first aired on March 12, 2000 and is the twenty-second episode of The Sopranos.
In this installment, Paulie "Walnuts" Gualtieri is obsessed with a supernatural message purportedly from hell (as told by Christopher Moltisantifrom after a near-death experience following being shot) consisting of the phrase "Three o'clock." Paulie becomes consumed with this message and wakes nightly at 3:00 am.
At 19 minutes, 2 seconds into the episode, The Sopranos Flip Clock appears onscreen for 7 seconds, in the hands of Paulie flipping from 2:59 to 3:00am as he lays in bed with his girlfriend. He suddenly jumps from bed apparently in fear, but eventually realizes that he has been roused by his girlfriend's windchimes.
The flip clock pictured, is the Copal Model RP-160. Interestingly, the plastic faceplate has been removed from the clock, likely because it sports the name "COPAL" on the bottom left corner. Obscuring the brand name of a clock used in TV, movies or even in a commercial is very common, in fact, the norm.
So, Bada Bing, there you have it: Another TV Flip Clock - The Sopranos Flip Clock - the Copal Model RP-160.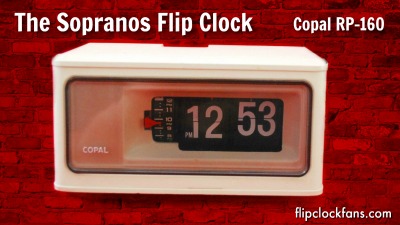 There's actually more than one flip clock on the Sopranos!
Credits:
Both flip clocks brought to our attention by the wonderful wife of voice artist
Darren Marlar