The Coca Cola Flip Clock Sign - It's the Real Thing!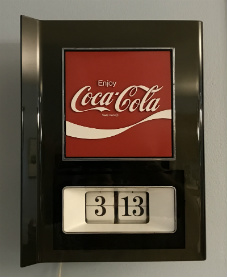 Produced sometime between 1969 and 1973 (our guesstimate), the Coca Cola flip clock sign features an over-sized, white Caslon flip clock set within translucent, cola brown plastic and prominently featuring an iconic red Coca Cola square logo.
The clock was originally an integral part of a larger display. This particular clock was discovered on eBay and had numerous cracks and showed signs of attempts to make the clock more free-standing by sawing off plastic components from the right side of the clock.
Restoration
: FlipClockFans.com administrator finished removal of the extra, now unnecessary and somewhat unsightly portions of the display. The semitransparent brown plastic accepted sanding and polishing well, but curiously, any sanding or polishing seemed to create a substantial amount of heat very quickly. Sawing the plastic was tricky as the developing heat caused plastic material to melt away more than being removed by abrasion. With much manual work the clock was eventually taken to a very pleasing shape, resulting in a unique clock that displays very well.
See the Article
for more details - including how the manufacture date was determined (guessed).
Restoration Video
Check out more details about the restoration or perhaps we should say "re-building" or "re-purposing" of this flip clock sign